Suruç: Turkish officials identify attacker
Comments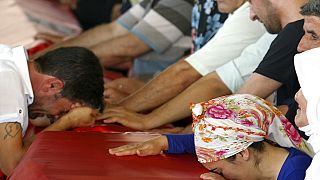 On Monday this week, the square outside the Amara Cultural Centre in the Turkish town of Suruç, was thronged with well-wishers.
They had gathered to hear plans for a humanitarian mission to help in the reconstruction of Kobane, the Kurdish city just over over the nearby border with Syria.
A group of left-wing students had collected much-needed everyday items to help those trying to rebuild their lives in Kobane. There were even toys to help restock a playgroup.
But at midday, a suicide bomber detonated his device.
Now, the square is full of mourners.
Officials say they have now identified the 20-year-old Turkish suicide bomber, who killed at least 31 others and injured 100 more.
Mass funeral held for victims
A mass funeral has been held for the majority of those who died.
Mourners wept as the coffins were lined up in the courtyard of a mosque.
They have been taken on to their home towns for burial.
A la UNE ce matin – Turquie: l'auteur de l'attentat suicide de Suruç identifié http://t.co/eU4AkZmBZDpic.twitter.com/pPqb7o5w2L

— Infos.fr (@_infos) 22 Juillet 2015
A second night of angry protests
Tuesday night saw more protests by people angry at the authorities.
11 people have been arrested.
Large protest making it's way down Green Lanes following massacre in #Suruc yesterday http://t.co/CsquCd4iMRpic.twitter.com/lNvaTzNXKE

— David Gilbert (@daithaigilbert) 21 Juillet 2015
The government says evidence suggests the self-titled group Islamic State was behind what happened in Suruç.
However, it has rejected accusations that it tacitly supports the group.
Court ruling blocks Twitter
A senior Turkish official has told the Reuters news agency that a block on access to Twitter will be lifted, after the micro-blogging site removed images related to the attack.
BREAKING: Turkish state-run says Turkey blocked access to Twitter over images of bombing, Kurdish protest calls http://t.co/j5yoR18R5J

— The Associated Press (@AP) 22 Juillet 2015
Several internet service providers blocked access to Twitter in line with a local court ruling to prevent the distribution of images of the attack.