Trump strikes again as polls put him as GOP front runner
Comments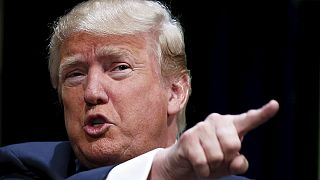 They broke the mold when they made Donald Trump – that's what political analysts are saying of the outspoken billionaire who has become 2016 front runner among Republican voters.
Trump drew attention when he called undocumented Mexican immigrants "rapists" and "criminals" as he launched his campaign for the Republican presidential nomination in June.
He's now lashed out at rival Senator Lindsey Graham at a campaign rally, even giving out Graham's private phone number for the public to ring him with their complaints.
"They can talk all they want, I mean I got a little does of it. I was coming up and I see your senator, what a stiff, what a stiff, Lindsey Graham…. by the way, he's registered zero in the polls, zero! And he's on television all the time."
McCain calls on Trump to apologise to US military families
Trump's attack on on the war record of Senator John McCain saying he shouldn't be considered a hero as he was captured -drew a barrage of criticism, and yet the more outrageous Trump is the more his popularity seems to grow.
But it remains to be seen just how far his gaffs – calculated or otherwise – will take him.
Members of the public were asked their opinion in New York's Time Square:
"Mr. Trump has got an agenda and he's a real funny guy and he's bringing a lot of issues to the forefront because nobody else has the guts to say what he's saying," said one man.
"Everything that comes out of his mouth is just a disgrace. It's so sad and I can't believe he's actually trying to run for the country. Not happening darling, no!" said one women.
And there are plenty of opinions on social media about the Trump campaign:
When does D Trump get to pick his running mate? I can not wait to see who it is. Oh man, it's gonna be dope. Vince McMahon maybe?

— Brooks Wheelan (@brookswheelan) July 21, 2015
Conservative TV host DEFENDS Trump, says he may be what the country needs to set a new course http://t.co/6l9fKAVrl7

— Phx Ken (@PhxKen) July 21, 2015
Bill Cosby is a bad guy. Donald Trump may become President. Maybe Marty McFly never fixed the time lines in Back to the Future 2.

— Kumail Nanjiani (@kumailn) July 21, 2015