Burundi presidential vote underway amid violence and murders
Comments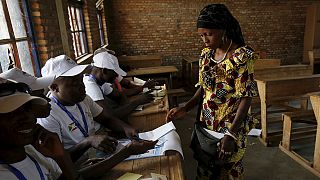 Burundi's chief of state has voted in the country's presidential elections. Many say Pierre Nkurunziza is violating the constitution by running for a third term.
Dozens have been killed in weeks of demonstrations and violence against the vote.
Neighbouring African states had called for the election to be postponed.
"We have to allow the Burundian people to vote or to choose someone they trust, and also to choose the programme that suits them best," said President Nkurunziza. "Those programmes will guide the people to choose the best candidate, who will allow their country to develop and will also consolidate democracy and maintain peace and security in our country. Thank you."
Incumbent President Pierre Nkurunziza arrives by bicycle to cast his ballot #Burundi#photo by fil</a> <a href="http://t.co/um9YYW9sAD">pic.twitter.com/um9YYW9sAD</a></p>&mdash; Agence France-Presse (AFP) July 21, 2015
Opponents of the president have boycotted the poll. One opposition official and one police officer were killed in clashes just hours before voting got underway.
Some EU member states and the US have halted aid to Burundi, one of the world's poorest nations.
The US state department said elections held in these conditions "will not be credible and will further discredit the government."
The result of the election could take several days to emerge.