Burundi's past overshadows Nkurunziza's pursuit of power
Comments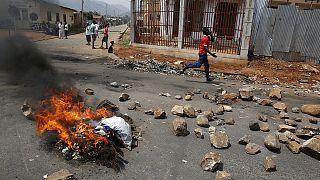 The latest crisis in Burundi was sparked by President Pierre Nkurunziza's announcement he would run for office a third time. Burundi's constitution says the longest a president can rule is two terms.
Nkurunziza insists he is eligible to stand again, because for his first term parliament appointed him; there was no direct election.
Although the constitutional court has supported his bid, the court's vice-president Sylvere Nimpagaritse fled Burundi in May, saying there had been "enormous pressure and even death threats" to rubber-stamp Nkurunziza's candidacy.
The small land-locked African country has had a violent history, including massacres and military takeovers. It became independent from Belgium in 1962. It neighbours Rwanda, which suffered a genocide in 1994.
Burundi has the same ethnic mix. It is 85 percent Hutu. The minority Tutsis traditionally dominate politics and the military. Inter-ethnic violence has seen hundreds of thousands of people killed in a civil war.
The Arusha Peace Agreement brokered by South African statesman Nelson Mandela in 2000 aimed to set up a democratic Hutu-Tutsi government, but no ceasefire agreements with any of the major rebel groups were included, and any power-sharing was delayed.
In 2004, UN peacekeepers stepped in.
The following year, Nkurunziza became president unopposed, and reconstruction began to get off the ground in 2006.
Even so, a ceasefire between the government and the last remaining armed opposition group, the FLN (Forces for National Liberation), was not fully implemented, and violence did not completely stop.
The recent upsurge has led to nearly 200,000 people fleeing to neighbouring countries, heightening humanitarian fears and concern that the crisis could spread throughout the volatile region.