'They will blow you up,' Cameron warns at unveiling of 5-year counter-extremism plan
Comments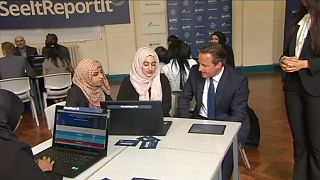 British Prime Minister David Cameron has unveiled a new, five-year plan to "tackle the poisonous Islamist ideology that is so hostile to British values."
It's being hailed his most significant speech on extremism to date, so what did he say?
Here's a summary…
I'll be making a major speech on extremism today - how we can tackle the poisonous Islamist ideology that is so hostile to British values.

— David Cameron (@David_Cameron) July 20, 2015
Cancelling children's passports
Under the new measures, parents will be able to cancel their children's passports if they fear their offspring are becoming radicalised. This, it is hoped will help prevent under 16s from travelling to Syria or Iraq to join jihadist groups such as the self-proclaimed Islamic State.
"I know how worried some people are that their children might turn to this ideology," he said, "So I can announce today we are going to introduce a new scheme to enable parents to apply directly to get their child's passport cancelled to prevent travel."
No legislation will be needed, meaning the plan can be introduced with immediate effect.
"They will blow you up"
A stark warning was given to youngsters considering travelling to join extremist groups.
"If you are a boy, they will brainwash you, strap bombs to your body and blow you up. If you are a girl, they will enslave you and abuse you," he advised.
Integration vs "identity crisis"
During his speech in Birmingham, Cameron called for better integration within communities to help counter what he called an "identity crisis" among some British-born Muslims.
He announced plans to end religious and racial segregation in several towns.
"Areas of cities and towns like Bradford and Oldham continue to be some of the most segregated parts of our country. It's no coincidence that these are some of the places where community relations have historically been most tense, where poisonous far-right and Islamist extremists desperately try to stoke tension and foster division."
He added: "Government needs to start asking searching questions about social housing to promote integration and avoid segregated social housing estates where people living there are from the same, single minority ethnic background."
Cameron also spoke about education, stating that segregated schooling must be looked at. He ruled that all new faith academies and free schools must allocate half their places without reference to faith.
"There is a danger in some of our communities that you can go your whole life and have little to do with people from other faiths and backgrounds. So, when groups like ISIL seek to rally our young people to their poisonous cause, it can offer them a sense of belonging that they can lack here at home."
"Uncomfortable debates"
Moving onto religion, the PM pointed out that it was "dangerous" to deny any link at all between Islam and Islamism.
"We will have to enter some pretty uncomfortable debates, especially cultural ones. Too often, we have lacked the confidence to enforce our values for fear of causing offence."
"Simply denying any connection between the religion of Islam and the extremists doesn't work because these extremists are self-identifying as Muslims."
"It's an exercise in futility to deny that. More than that, it can be dangerous. To deny it has anything to do with Islam means you disempower the critical reforming voices."
Tackling extremism in prisons and online
Chastising Internet giants, such as Facebook, Google and YouTube for not doing enough to block hate sites, the PM said "I just don't buy it" that it is too difficult to do more to tackle online extremism.
"I also want us to go much further in dealing with this ideology in our prisons and online. We need to have a total rethink of what we do in prison to tackle extremism. And we need our Internet companies to go further in helping us to identify potential terrorists online."
Challenging broadcasters
Cameron urged broadcasters not to give airtime to extremists, saying "there are many strong, positive Muslim voices being drowned out."
"You are free to put whoever you want on the airwaves," he continued, "But there are a huge number of Muslims in our country who have a proper claim to represent liberal values in local communities, people who run credible charities and community organisation, councillors and MPs, so do consider giving them the platform they deserve."
"Together, we can defeat extremism"
We need to confront and expose Islamist extremism as a belief system that glorifies violence & subjugates people. (1/3)

— David Cameron (@David_Cameron) July 20, 2015
Time and again, Britain has refused to compromise on our values or give up our way of life. And we shall do so again. (2/3)

— David Cameron (@David_Cameron) July 20, 2015
Together we can defeat extremism - and build a stronger, more cohesive society. Please share this message: https://t.co/pLRyJMeNx1 (3/3)

— David Cameron (@David_Cameron) July 20, 2015