USA: Ku Klux Klan supporters of Confederate flag clash with African-American group
Comments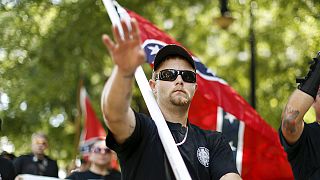 There have been angry scenes in South Carolina as Ku Klux Klan members protested at the removal of the Confederate flag from government headquarters in the US state.
Tempers flared when the white supremacists came up against a counter-rally led by an African-American group that aims to highlight continuing racial inequality.
The two sides not only taunted each other but scuffles were reported and a number of arrests were made.
Black group and Ku Klux Klan hold rallies on Confederate flag battleground http://t.co/GYX9lzZUom

— The Guardian (@guardian) 19 Juillet 2015
The flag was removed from the State House grounds after the killing of nine African-Americans in a church in Charleston last month.
A website linked to suspected gunman Dylann Roof, a 21-year-old white man, contained a racist manifesto and showed him in photos posing with the flag.
Supporters see it as an honorable emblem of Southern heritage. But for opponents like the Black Educators for Justice Group who staged the counter-rally at the South Carolina Statehouse, it is a painful reminder of the American South's pro-slavery past.