Greek banks to reopen after a three-week shutdown
Comments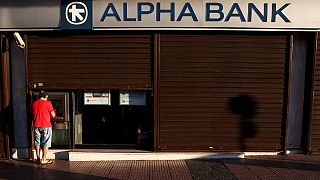 Long queues are expected as Greek banks reopen after a three-week shutdown.
Basic services will be up and running but withdrawals will still be limited to 60 euros per day.
The measures are aimed at stopping a run on the debt laden banks as Greeks fear about the security of their savings.
Today will also see a rise in VAT on restaurant food and public transport as part of a deal struck with the EU last week to avoid bankruptcy.
It is another delicate week for Prime Minister Alexis Tsipras as prepares to face a second critical vote to secure a bailout agreement.
After five-years of crisis measures, some are cynical about the promises of the present government.
Odysseas Dimitriou, a resident of Athens said:
"Whatever has been decided for Greece will be done. The new measures will achieve nothing, nothing different from what has been going on for the past five years. But these (the new measures) had to be introduced. It was necessary, I suppose."
Another Athenian, Ilias Tsilikis, added:
"Those that depend on the state will be worse off. It would be good if a new 'brain' (leader with new ideas) arrives."
The banks are able to reopen after the European Central Bank extended liquidity by 900m euros on Thursday, just enough to tide them over for a short time.