Angela Merkel rules out Greek debt write-off
Comments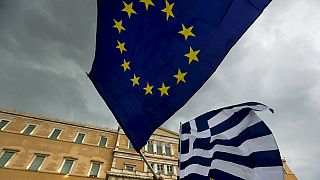 Angela Merkel has reiterated that the eurozone will not write-off part of Greece's debt to international creditors.
The German Chancellor says the idea of a Grexit is now off the table barring a "chaotic situation" in which finance ministers all agree that its best.
Speaking on German television she said:
"Greece has been granted relief. Private creditors were allowed a voluntary debt cut.
"Then, we extended (credit) terms and lowered interest rates. We can consider such measures again as they are part of the mandate, as noted therein. Once a hypothetical program has been reviewed successfully, we will discuss that very question."
eurozone government
Meanwhile French President Francois Hollande said that situation over recent weeks only shows the case for even closer Union.
Speaking of one of the originators of the single currency idea he said:
"I propose that we revive Jacques Delors' idea of a eurozone government adding a specific budget and a Parliament to ensure democratic control."
Francois Hollande was a protege of Mr Delors and wrote the article to mark the former French minister's 90th birthday.
Hollande called for interested parties to push ahead towards a form of federal government leaving behind countries which opposed further "deepening" or "integration" of the 28 member Union.
As well as discussing the muddled response to Greece this also lays clear France's position on EU reform, before the in/out referendum in the UK next year or in 2017.