Search continues for victims in Iraq after huge suicide bomb
Comments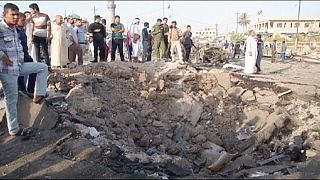 Recovery workers in Iraq have been searching for more victims among the debris following Friday's massive car bomb at a busy market.
Officials say at least 120 people were killed and another 130 were injured.
The self-proclaimed Islamic State group claimed responsibility for the bomb in the mainly Shi'ite town of Khan Bani Saad about 30 kilometres from Baghdad, in one of its deadliest attacks.
"Terrorists? Was it ISIL? We don't know. How did this car enter? All these people are dead. The buildings are burned. Look at the streets. This is the first day of Eid, hundreds of people were killed, many injured, and there are still people we cannot find," said local resident Sayif Ali.
ISIL said the car contained three tonnes of explosives.
At least 15 children were reported to have been among the dead.
Three days of mourning have been declared in the province and Eid festivities cancelled.
In January the Iraqi government said the area had been "liberated" from the jihadists.
On Saturday the parliamentary speaker said the authorities were doing all they could to stop ISIL from further destabilising the region.