Nigeria: Suicide blasts kill at least 13 as worshippers mark Eid
Comments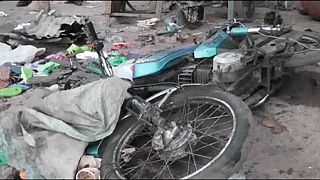 At least 13 people were reported dead in suicide attacks in Nigeria on Friday.
Conflicting accounts say that twin or triple blasts killed up to 13 people in the northeastern city of Damaturu in Yobe State.
An elderly woman and at least one girl below the age of ten are said to have blown themselves up.
"A small girl that is not up to 10 years just approached one of the checkpoints…near the government house here and blew herself up. That is the first incident where she killed six people including herself," said Yobe State Police Commissioner Markus Danladi.
The bombings came as worshippers gathered to mark the Muslim Eid holiday.
In Gombe, on Thursday, some 50 people were killed in bomb attacks.
No group has said it was behind the bloodshed but such violence is usually blamed on the militant Islamists, Boko Haram.
United Nations Secretary-General Bank Ki-moon has condemned the deadly violence.
In a statement, he said the attacks, as victims "were conducting Eid prayers, a sacred time for families and communities to come together" amounted to "an assault on the beliefs of all people".
Boko Haram has killed thousands of people and left about 1.5 million others displaced during a six-year insurgency in which it has tried to set up a state adhering to strict Sharia law.
The insurgents are threatening regional stability, despite a military campaign involving Nigeria's neighbours Niger, Cameroon and Chad where two soldiers and at least 19 Islamists were reported dead on Friday in fighting after a Boko Haram cross-border attack.