'Hundreds' injured in South Africa rail collision
Comments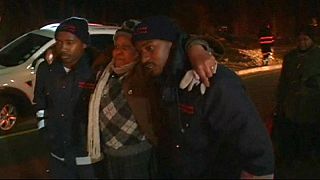 Over 200 people have been injured in a rail collision near Booysens station in South Africa, local media reports.
Train company Metrorail said at least a hundred of those suffered serious injuries, although none are thought to be critical.
Several were taken to nearby hospitals, while paramedics treated others at the scene in Gauteng, south of Johannesburg.
Officials at the site say one train rear-ended another. Both are believed to have been Soweto-bound commuter trains.
Metrorail spokeswoman Lillian Mofokeng said:
"I can confirm that it is a rear-end collision. Two trains were travelling behind each other on a similar, single track."
There are no reported casualties. Injuries are said to range from neck and back strains to bone fractures.
The cause of the crash is under investigation.