Ukraine: New video released on anniversary of MH17 disaster
Comments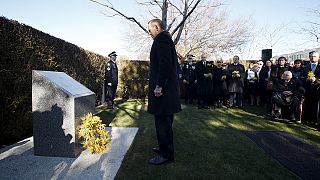 Prime Minister Tony Abbott has led Australia's memorial service for victims of the MH17 disaster – exactly one year since the passenger jet was shot out of the sky over rebel-held eastern Ukraine.
All 298 people on board died including 38 Australian citizens or residents.
MH17 anniversary: victims are etched on our hearts says Abbott. http://t.co/qzUXLB6Ano Pic: Getty pic.twitter.com/4rGSLfAN6r

— The Australian (@australian) 17 Juillet 2015
Footage has been released by the News Corp. Australian media firm said to show Russian-backed separatists realising they had shot down a commercial airliner rather than a Ukrainian fighter jet.
It says the rebels can be seen on the video picking through the belongings of passengers and crew at the crash site.
Moscow denies involvement in the conflict and has suggested
Ukraine's military shot the plane down, something Kyiv denies.
Most victims on the doomed plane flying from Amsterdam to Kuala Lumpur were from the Netherlands which is leading an investigation due to be published in October.
Dutch authorities have led calls for a UN tribunal to bring the culprits to justice – something dismissed by Russia's President Vladimir Putin as counterproductive and premature.