Rome promises a sustainable Olympics if chosen as 2024 host
Comments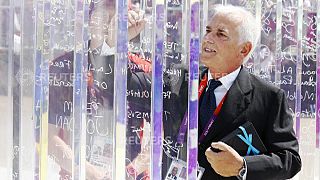 Rome will host a sustainable Games which makes use of existing venues should the city be successful in its bid to host the 2024 Olympics, officials said Thursday.
The announcement came following a meeting between a 24-strong bid team which included Mayor of Rome Ignazio Marino and the International Olympic Committee in Lausanne at a seminar for potential host cities.
Bid delegates said that Rome would upgrade existing infrastructure, much of it dating back to the previous Olympics held in the city in 1960, rather than build new venues to keep construction costs to a minimum.
"We will not build cathedrals in the desert," said Marino. "We are not going to overbuild. We are going to develop what already exists."
Refurbished venues would include Rome's Olympic stadium which is currently use by Serie A clubs AS Roma and Lazio, as well as the velodrome and the rowing venue.
Officials are also considering the half-built Tor Vergata complex on the outskirts of the city for an upgrade.
Initially meant to stage the 2009 world swimming championships, construction of the Tor Vergata was halted after the local organising committee decided to move the entire event to the Foro Italico.
The complex has since been abandoned.
Rome bid committee general director Claudia Bugno confirmed that the budget, which is thought to be in the region of six billion euros, would be funded jointly by the public and by corporate partners.
The IOC would be expected to cover about a third of the overall cost.
"As with the 1960 Games, which transformed Rome and the Olympic movement, we are looking to launch short and medium term initiatives which will leave a legacy for the city, and even in the next to years," Bugno said.
She added that the bid team "are working with many sportsmen and many Olympians" to deliver a bid that represents sport and place athletes first.
Marino also promised complete transparency in public expenses, saying: "We will disclose every single we euro that we spent."
"The process will be discussed with the population and the government. I think we are creating a new system and a new administrative culture in the city of Rome which will help us tremendously to protect us from that kind of issues."
The assurances of transparency, however, come at a time when new revelations are still surfacing in a major corruption scandal engulfing the city now dubbed the 'Mafia City'.
Intercepted phone conversations by police, which has led to more than a dozen arrests, have
revealed how local city officials were complicit in the handing of lucrative public contracts to criminal bosses.
But Italy's head of anti-corruption, Raffaele Cantone, stressed: "If a state renounces a big event because there is a risk of corruption and criminality, that's a defeat by itself." It is expected he will later join the bid team.
The IOC will choose its shortlist of candidate cities in 2016, before voting for a winner in 2017.