Pluto: is the planet geologically active?
Comments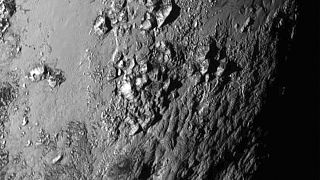 There are signs that Pluto is geologically active.
Images relayed by the first spacecraft to visit the planet show icy plains covered in uniform formations in the shape of polygons.
VIDEO: NASA's New Horizons team debuts a 'flyover' graphic of #Pluto's frozen plains. http://t.co/QHb9lyqwnK

— Reuters Top News (@Reuters) 17 Juillet 2015
There are also clusters of hills and mountains.
Experts say the images, taken by the New Horizons mission which launched in 2006, show evidence of contraction on the planet's surface.
They say the data – only one percent of the total captured by the probe – is challenging theories about how planets generate heat.