Nigeria: Dozens of Eid shoppers killed in Gombe market blasts
Comments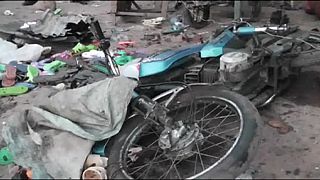 Women and children are among around 50 people reported dead and dozens more injured after twin explosions at a packed market in Nigeria.
Nobody has claimed responsibility for the blasts but they bear all the hallmarks of the Boko Haram Islamist militant group which has killed thousands in the country's northeast.
The market in Gombe was packed with people doing last minute shopping for the Eid festival marking the end of Ramadan, the Muslim Holy Month.
President Muhammadu Buhari has made crushing the insurgents his top priority, but hundreds have been killed in bombings and shootings since he was inaugurated on May 29.
It comes amid reports that Cameroon has banned burqas in its Far North region after two women dressed in the religious garments blew themselves up last week in a suspected Boko Haram attack there.
Nigerian refugees have sought safety in Cameroon but it and neighbouring Chad have now also become targets for the militants.