Stranded white shark is rescued by activists
Comments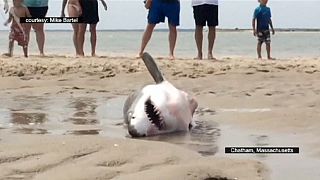 Conservation activists in Massachusetts have successfully rescued a juvenile white shark after it washed up onto shore, getting stuck in the sand.
The drama was recorded on video as local beachgoers poured water over the distressed shark to try to keep it alive.
Eventually until someone managed to tie a rope around its rear fin before towing it successfully back out to sea.
It's thought the shark had misjudged its surroundings while trying to catch seagulls.