Japan lawmakers approve contentious bills to bolster military presence abroad
Comments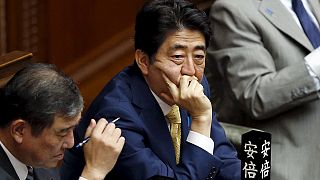 Japan's lower house of parliament on Thursday approved a set of bills to allow the military to fight abroad for the first time since World War II.
Japanese Prime Minister Shinzo Abe is keen to strengthen the military's role to
counter China's growing presence in the region and contribute more to international peacekeeping.
"This is absolutely necessary legislation to protect the lives of the Japanese and also to prevent the country from going to war, Abe said.
The planned changes represent a major shift for Japan, which has a pacifist constitution.
Surveys show that around 80 percent of Japanese are wary of the new legislation and many believe it to be unconstitutional.
Protests were held outside parliament in Tokyo and opposition lawmakers boycotted the vote.
"The bills destroy the principles of constitution, said 60-year-old Fumio Imai, who was demonstrating against the legislation.
"We cannot accept the bills as they affect the direction of the country and our everyday life. So, we now aim to stop the bills passing at the upper house (of parliament)," Imai continued.
The upper house will now debate the controversial legislation – and must vote on it within 60 days.