Italy: 2,700 migrants rescued in 24 hours
Comments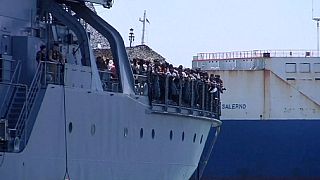 Some 2,700 migrants were plucked from the Mediterranean and brought to Italy in the space of 24 hours between July 15 and 16, 2015.
The Italian coast guard confirmed the figure, saying nine dinghies and four wooden boats had been intercepted.
Around 350 people arrived in Pozzallo, a port on the island of Sicily.
Today someone is leaving, others are coming in #Pozzallo centre. We wish the best to the first, we welcome the others pic.twitter.com/hCcodHI9Ef

— Chiara Montaldo (@MSF_SICILY) July 16, 2015
Aid workers conducting initial interviews with those disembarking said they seemed to be of Eritrean nationality.
Their boat journey began in Libya, where several appeared to have been held in detention.
The rescue was a combined effort between the German and Italian navies, the Italian Coast Guard and Doctors Without Borders.
Barely a centimetre of spare deck space on the #Argos last night as the 586 people rescued lay down to rest #MSFSeapic.twitter.com/u1NtfmIDAj

— MSF Sea Rescue (@MSF_Sea) July 16, 2015
It came a week after the European Union announced the number of migrants seeking shelter within its borders had skyrocketed by 68 percent between January and the end of May, 2015, compared with the same period the previous year.