Exiled Yemen government sends delegation back to war-torn Aden
Comments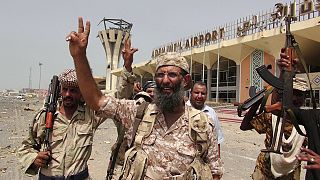 Several ministers from Yemen's exiled government have gone back to the country, according to officials.
The delegation returned to Aden after pro-government forces, backed by Saudi-led air strikes, regained control of the strategic city's airport and port area earlier this week.
Members of Yemen's government – including the interior minister, the transport minister and the head of the intelligence services – arrived by helicopter in the conflict-ravaged city.
With a growing humanitarian crisis across Yemen, UN Humanitarian Coordinator Julien Harneis, said more than 80 percent of the Yemeni population were in need of humanitarian assistance.
"The needs are water, health, food, nutrition, pretty much everything that you could imagine. We really have a humanitarian catastrophe at the moment because of the conflict," Harneis explained.
Houthi rebels overran Yemen's capital, Saana, in September and went on to push into the south and east of the country.
The rebels' losses in Aden are their biggest setback since the Saudi-led air campaign was launched in March.