SNP flexes its parliamentary muscles over fox hunting in the UK
Comments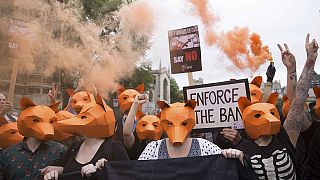 The anti-fox-hunting debate has risen up the political agenda in the UK once again.
On Tuesday British Prime Minister David Cameron was forced to postpone a vote relaxing a ban on the activity, mainly because he faced defeat after Scottish Nationalists threatened to side with the opposition.
"David Cameron is not master of all he surveys in the House of Commons. He's got a fragile majority and perhaps one of the benefits of this over the last couple of days is reminding him how fragile that majority is and if he's got any sense he will reflect on that,'' said Nicola Sturgeon Leader of Scottish National Party:
The Scottish Nationalist Party (SNP) won 56 of the country's 59 parliamentary seats in the last election and with Cameron's Conservatives only having a 12 seat majority, the SNP is a force to be reckoned with.
The change in law proposed by the government would only have applied to England and Wales and the SNP have pledged not to get involved if legislation doesn affect Scotland. However Sturgeon is making a point over what she says is the lack of respect for Scottish MPs.
Cameron has plans to give English lawmakers a veto over laws that do not affect Scotland, something which the SNP says will make them second class citizens in the House of Commons.
The proposed law change to the Fox hunting ban would have allowed hunts in England and Wales to use more than two dogs to flush out a fox. ( The fox would then be shot).
Fox hunting is an extremely divisive issue in Britain, with supporters hailing it as an important rural tradition which helps pest control and opponents criticising it as cruel and elitist.