Video shows escape of Mexican drug baron Joaquin Guzman
Comments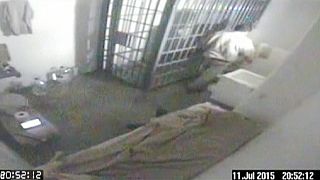 Authorities have released a video of the 1.5 kilometre tunnel through which one of Mexico's most feared drug barons Joaquin 'El-Chapo' Guzman made his escape. It shows a machine which it's believed carved out the air conditioned escape route.
Officials believe the facts point to collusion and three senior prison officer including the director of the Altiplano jail have been dismissed.
A hefty reward of almost three and a half million euros has been offered for the capture of the fugitive from justice.It is a mere fraction of Guzman's personal fortune estimated at 650 million euros.
Security has been tightened across Mexico and on the border with Guatemala.
Authorities have released a video of the 1.5 kilometre tunnel through which one of Mexico's most feared drug barons…

Posted by euronews on Wednesday, July 15, 2015