French security forces foil a suspected terror attack on a military base
Comments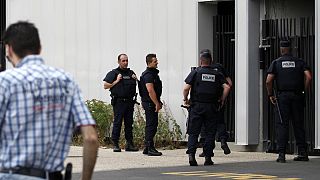 Security forces in France have arrested four people they suspect of planning an attack on a French military base.
It's believed they have links to jailed jihadists.
According to sources the attackers had planned to behead a senior military official some time early next year.
The four suspects who are aged between 16 and 23 are being questioned by French Intelligence.
Police arrested the four in several places around France – in Bouches-du Rhonee near the city Marseilles, Les Yvelines near Paris and a third location near Lyon.
"The main instigator was detected after being active on social media and due to apparent links with French jihadists currently in prison. He was also known to the authorities because he hoped to go to Syria," revealed French Interior Minister Bernard Cazeneuve.
France is currently on high alert after militant Islamists killed 17 people in January in attacks in and around Paris, and after an incident in June in which a suspected Islamist beheaded his boss and tried to blow up an industrial plant .