Britain's Walker wins 2015 Romaniacs prologue
Comments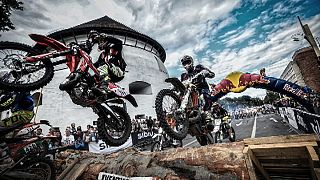 The 2015 Red Bull Romaniacs in Sibiu kicked off with the spectacular prologue which took competitors over a trick street course littered with daunting obstacles of giant rocks, steel and wood.
Britain's Jonathan Walker started his Romaniacs campaign with a prologue victory for the second time in his career.
But overall victory in this enduro rally is far away as competitors now have to contend with four days of punishing offroad riding.