Tevez receives heroes welcome at Boca Juniors
Comments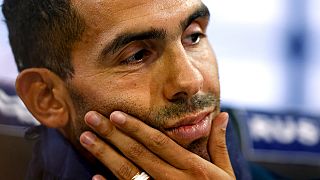 Carlos Tevez has been officially unveiled as a Boca Juniors player.
Some 50,000 fans packed into La Bombonera to welcome him back to Argentina after a decade abroad.
Following a spell at Corinthians in Brazil he moved to the English Premiership to play for West Ham, then Manchester United and City before leaving to play for Juventus in Italy's Serie A.
Tevez described it as the "happiest day of his life."
"There is no better day than this, it doesn't compare with anything. Firstly, because this is my people, secondly, because I don't have to speak English, nor Italian, and thirdly, because I am among family and I can make mistakes and they won't say anything," said Tevez.
Among those in the crowd were Diego Maradona whose number ten shirt Tevez will also wear.
The transfer deal is thought to be 6.5 million euros plus the Italian champions will get up to four players on loan.
Boca Juniors are currently on top of the Argentine league championship.