Poroshenko calls for disarming of 'illegal groups' in Ukraine
Comments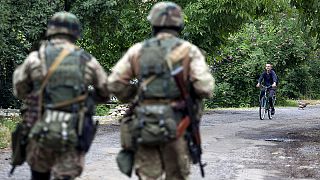 Ukraine's president has ordered the disarming of "illegal groups." Petro Poroshenko made the call after a weekend standoff between a far right group and police in the west of the country.
In a statement, he seemed to refer to the nationalist group Right Sector (Pravy Sektor) which played a big part in protests that toppled former president Viktor Yanukovich last year.
"It's a discreditation of the real Ukrainian patriots," said Poroshenko. "No political force should have and will not have any kind of armed cells."
Right Sector says it has to protect Ukraine from "outside forces," mainly Russia, trying to destabilise the country.
Officials have questioned the need for weapons thousands of kilometers from the country's battle zone in the east.
Hungary and Slovakia have increased security on the EU border with neighbouring Ukraine.