Iranian expats in London hope deal will ease life back home
Comments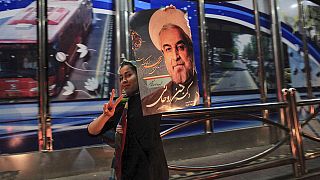 There are millions of Iranians living abroad – many left in the wake of the 1979 revolution.
Today, tens of thousands are in the UK. London's Kensington district has a number of Iranian grocery stores and many Britons come shopping in the area for caviar.
Euronews found a mixed reaction to the nuclear deal.
One Iranian shopkeeper now resident in London welcomed the agreement as he watched the reaction of Iran's President Rouhani to the deal on television.
''All the people (here) are happy at the moment. For the situation inside Iran I hope it does work and prices fall, then people can take a breather. And abroad, I hope Iranians can travel more to Iran and go back home," he said.
A woman outside the shop had a different opinion:
''In my opinion, all these agreements and talks are just a game. There are no words about the human rights situation in Iran. It's all just political words," she said.
Many Iranians living in London and across Europe shy away from expressing their opinions to the media, because they are afraid of possible negative consequences especially when they travel to Iran.
But most of those who agreed to talk said they were happy with the nuclear deal and hopeful for the future.
"Iranian officials themselves have said the weight of the sanctions has broken the backs of people, especially the middle class. I hope this deal will benefit Iranians in the country," said a visiting male tourist from Iran.
Although more recent immigrants from Iran are more likely to be unemployed, Iranians who have been settled for some time in Britain and other parts of the world tend to be in work and relatively high-earners.
The lifting of sanctions could lead Tehran to seek more investment from Iranian expatriates.
Euronews correspondent Ali Kheradpir reported from London:
"The nuclear activities of the Islamic Republic of Iran have cost 12 years of talks, 21 months of breathtaking bargaining and lots of tough financial and economic sanctions. Right now with the achievement of this deal, many Iranians across the world hope that the economic pressures on the people inside Iran will be reduced."