Iran deal a 'bad mistake of historic proportions' says Netanyahu
Comments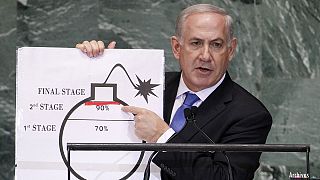 Israeli prime minister Benjamin Netanyahu described the agreement as a historic mistake. He tweeted in Farsi:
"Hundreds of billions of dollars that will be transferred to Iranian bank accounts won't be used to build hospitals and schools but used for terrorism and aggression."
صد ها میلیارد دلاری که به صندوق ایران واریز خواهد شد، برای تروریسم و تهاجم هزینه میشود، نه برای بیمارستانها و مدارس است!

— نخست وزیر اسرائيل (@israelipm_farsi) July 14, 2015
Netanyahu called the deal "a bad mistake of historic proportions."
His deputy prime minister called it a "historic surrender." She said on Twitter than Israel would act will all means to try and stop the agreement being ratified.
Analysts say that's a clear threat to try and use its influence to block the deal in the US congress.