Exclusive - EU's Mogherini hails 'good' Iran deal
Comments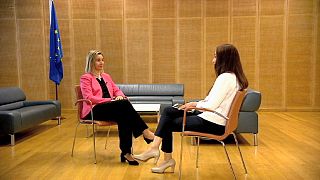 The nuclear deal agreed between Iran and six world powers represents a "historic opportunity" to change the relationship between Tehran and the West, EU foreign policy chief Federica Mogherini told euronews in an interview on Tuesday.
Speaking to euronews correspondent Reihaneh Mazaheri, Mogherini said the agreement that will see the UN's atomic agency carry out inspections on Iran's atomic sites could "change the nature of our relationship.
"It is important that this deal is a good deal for everybody, for all the parties that signed up to it, but also for the rest of the international community," the former Italian foreign minister said.
In a televised address, US President Barack Obama said that "every pathway to a nuclear weapon is cut off."
"This deal offers an opportunity to move in a new direction. We should seize it."
Obama also said he would use his presidential veto if Congress tried to block the deal agreed between Iran and the United States, Russia, China, Britain, France and Germany.
Meanwhile, UN Secretary-General Ban Ki-moon said he hoped the agreement "will lead to greater mutual understanding and cooperation on the many serious security challenges in the Middle East."
"As such, it could serve as a vital contribution to peace and stability both in the region and beyond."
Ban added that the UN "stands ready to fully cooperate with the parties in the process of implementing this historic and important agreement."
The breakthrough came earlier on Tuesday when the P5 +1 stuck a deal in Vienna, Austria to ensure Iran does not seek nuclear weapons in return for economic sanctions relief.
The negotiations have spread across the course of nearly two years, with diplomats sealing the agreement in the Austrian capital after a round of talks lasting 18 consecutive days.
An international arms embargo will remain in place on Iran for five years; deliveries will be carried out with the backing of the UN Security Council.
Tehran has also agreed to cut by the number of centrifuges by two-thirds, which can make fuel for nuclear power but also the core of a nuclear bomb, from around 19,000 to 6,104.
But world powers have made it clear: if Iran does break any part of the deal that sanctions could be reintroduced.