New Zealand set to miss Rio Olympic football spot due to disqualification
Comments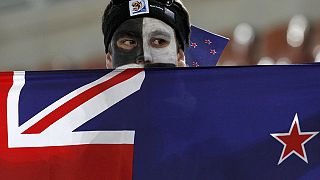 New Zealand will miss out on a spot in the men's football at next year's Rio Olympics unless they can overturn their disqualification in the Olympic qualification tournament in Papua New Guinea.
The Oceania Football Confederation upheld on Sunday Vanatu's protest that New Zealand defender Deklan Wyne was in fact ineligibility to play in their semi-final which saw New Zealand win 2-0.
Wyne, who has represented New Zealand at senior on a number of occasions, was deemed to be ineligible based on a FIFA stipulation relating to a player acquiring a new nationality.
The FIFA article requires players not born in the country they wish to represent to have either a parent or grandparent born in that country. Alternatively, players need to have lived there for a minimum of five years after they turn 18.
Wyne, who is 20, was born in Kapstadt, South Africa, and though he reportedly moved to New Zealand as a child and holds a Kiwi passport, it is understood that none of his close relatives were born in New Zealand.
He is also too young to have lived the necessary five years in the country.
An OFC committee subsequently disqualified New Zealand and handed a 3-0 victory to Vanatu, enabling them to progress to the Pacific Games under-23 tournament final against Fiji, who secured their Rio 2016 berth with a 4-3 win on penalties.
New Zealand Football chief executive Andy Martin confirmed his federation was working alongside lawyers to appeal the decision.
"We strongly refute the ruling regarding the ineligibility of the player in question and we will be challenging this decision," Martin said in a statement. "Given the circumstances regarding the process around the decision, Sunday's Olympic qualification final should have been postponed."
"Representations have been made to OFC, FIFA and the Pacific Games Council supported by NZ Olympic Committee and Sport New Zealand."
He added: "At this point no response has been received from Oceania Football."
The Pacific Games Council have, however, released a statement expressing regret at any confusion which may have arisen by staging a FIFA tournament as part of the Pacific Games.
The OFC's Olympic qualifying tournament was held in conjunction with the Port Moresby Pacific Games.