Paraguay: Pope Francis praises 'most glorious women of America'
Comments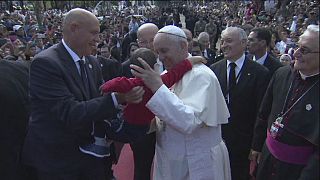 Pope Francis' homecoming tour of South America has taken him to Paraguay, where he was emphatic in his praise of the efforts of the country's women.
At a special mass in Caacupe, which houses Paraguay's most sacred religious site, the pontiff congratulated the nation's women, wives and mothers. He recognised their contribution in helping rebuild the nation following the nineteenth century's devastating Paraguayan War. More than half the country's male population was killed in the 6-year conflict fought against an alliance of Argentina, Brazil and Uruguay.
"I would like especially to mention you, the women, wives and mothers of Paraguay, who at great cost and sacrifice were able to lift up a country defeated, devastated and laid low by war," he said. "God bless the women of Paraguay, the most glorious women of America."
Prior to the the mass, he visited a children's hospital in the capital Asuncion.