US:South Carolina takes down Confederate flag
Comments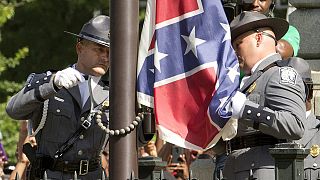 Troopers removed the Confederate flag from South Carolina's state capitol, three weeks after the racially-motivated killing of a group of black worshippers prompted fierce debate over its place in US culture.
The three days of tense debate in the state legislature brought emotional closure for a symbol long divisive in the state.
An overwhelming majority passed the bill on Thursday allowing the flag to be taken down.
South Carolina taking down the confederate flag – a signal of good will and healing, and a meaningful step towards a better future.

— President Obama (@POTUS) 10 Juillet 2015
A hated symbol of slavery and racism to some, for others it is an emblem of Southern pride and heritage.
Sens. Lee Bright, Danny Verdin and Harvey Peeler again voted against the #ConfederateFlag legislation.

— The Greenville News (@GreenvilleNews) 7 Juillet 2015
The vote came less than a month after a white gunman killed nine black men and one woman in an historic church in Charleston.
21-year-old Dylann Roof had posed with the flag in photos that appeared on social media.