[Live] Q&A session with euronews reporters on the Gaza flotilla
Comments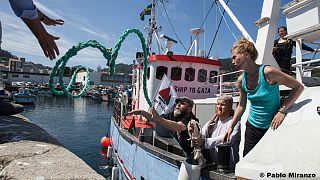 Euronews journalist Aissa Boukanoun travelled on board the Freedom Flotilla 3, an attempt by non-governmental organisations to break the Israeli blockade of Gaza. Euronews reporters Luis Carballo covered the story from the Israeli side of the border.
If you want to know how the blockade works; how Israeli uses all the means at its disposal to maintain it; what impact it has and who is challenging it, ask them your questions.
You can post them below using the comments tab on Twitter using the hashtag #euronewsgaza or on Facebook or on Google+
They will answer in the live-blog below on Friday July 10, starting from 1PM CET.
Euronews reporters Luis Carballo and Aissa Boukanoun answer your questions on the Gaza flotilla
You can already ask your questions in the comment box below