'Aviation history' made as electric plane flies across English Channel
Comments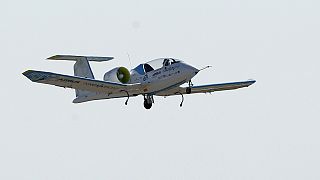 A French pilot claims to have made aviation history after flying an electric plane across the English Channel on Friday morning.
The Airbus E-fan plane, a light two-seater twin-engine aircraft, landed at Calais in northern France after taking off from Lydd airfield in southeastern England.
The pilot, Didier Esteyne, took less than 40 minutes to make the 74-kilometre journey.
Aviation experts hope that electric-powered planes using batteries would help to cut carbon emissions significantly.
One said the possibility of commercial flights using partly electric power could be explored.
A second French pilot is said to have flown a different electric plane across the Channel on Thursday night, before the Airbus flight.