Russia says Iran nuclear deal is "within reach" in Vienna
Comments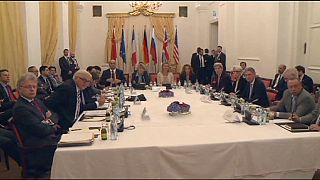 Ahead of tonight's deadline for talks in Vienna to reach an agreement on the Iran nuclear question, Russia says a deal is within reach.
However, the Russian Foreign Minister has added pressure, saying the lifting of an arms embargo against Iran must be a priority after any permanent deal.
That issue has been a sticking point at the talks.
Sergey Lavrov said: "It is clear a deal will not be a single momentous action, but rather an agreement that will have its stages, and that's now being finalised at the talks in Vienna."
Some reports say the deadline may be extended by three days, after which the US Congress will need time to review any deal.
Euronews correspondent in Vienna Reihaneh Mazaheri reported that the foreign ministers of three European countries and six other nations returned to Vienna, where final efforts are underway to try to strike a deal.
They know that if there is no comprehensive agreement by the end of today this will have implications in terms of Congress' timetable for its review of a possible deal.