'Communist crucifix' gift to pope in Bolivia raises eyebrows
Comments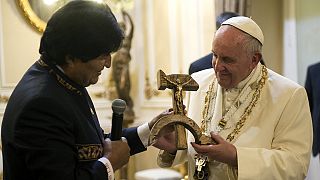 Pope Francis in Bolivia on his South American tour looked somewhat bemused when his host President Evo Morales handed him an unusual gift : a wooden hammer and sickle crucifix.
It's a classic symbol of communism frequently worn by a Jesuit priest Francis paid respects to.
Note how utterly unChristian this ugly Marxist crucifix looks. Note also Pope Francis' face when presented with it pic.twitter.com/8PZwEVMgNb

— Tim Stanley (@timothy_stanley) July 9, 2015
Around two million people packed into Christ the Redeemer Square in Santa Cruz and beyond to hear the pope's open-air address.
His central message: helping the poor and not judging people by what they can produce.
He said consumerism includes a logic in which everything becomes an object that can be consumed and negotiated. He says that excludes people, but the contrary is necessary for a fulfilling life.
Francis said: "A memorable life needs [the participation] of others."
The pope's main event of the day was a keynote speech to a summit of grass-roots groups.
Francis leaves on Friday for Paraguay, the last stop on what has been called his homecoming tour.