Ocean's Eleven and Karate Kid producer Jerry Weintraub dies
Comments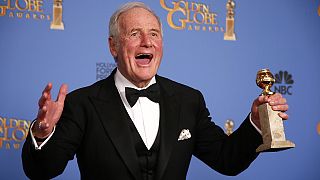 Jerry Weintraub, the producer behind the Ocean's Eleven remakes and the promoter behind some of history's biggest musical acts, has died. He was 77.
A native of New York, he was known as the personal manager and promoter of the late John Denver and other music icons like Elvis, Bob Dylan and Frank Sinatra before he turned to producing films in the late 1970's.
Weintraub reveled in associating with celebrities, world leaders and industrialists, including George W. Bush, who was a neighbour and friend.
In addition to his entertainment industry endeavors, he held large real estate investments and such ventures as an Elvis Museum in Tokyo, as well as a spa in Beverly Hills.
It's believed he may have died of a cardiac arrest.
Numerous friends and colleagues have tweeted their condolences:
Jerry Weintraub is larger than life. He was a giant in Hollywood & his heart was so big it lit up the town. My thoughts are with his family.

— Arnold (@Schwarzenegger) July 6, 2015
George Clooney on Jerry Weintraub: "Today our friend died" https://t.co/ydmMbcJs3Ypic.twitter.com/z3t39MwQcA

— Variety (@Variety) July 6, 2015
So sad and shocked that a creative spirit like Jerry Weintraub's could EVER be silenced. He was the ultimate producer. #BehindTheCandelabra

— Rob Lowe (@RobLowe) July 7, 2015
Jerry Weintraub will be dearly missed. A great contributor to what we all love about the movies- passion, dreams. #jerryweintraub

— McG (@McGsWonderland) July 7, 2015