Migrant dies in Channel Tunnel after jumping on UK-bound train
Comments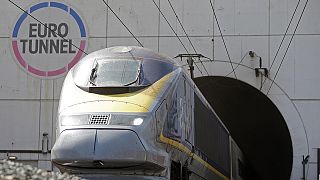 A would-be migrant has died in the Channel Tunnel between France and Britain.
The person is thought to have died from their injuries after trying to jump on a shuttle to the UK.
Dislocated by war, political turmoil and poverty, 3,000 migrants are living in makeshift camps in and around the French port of Calais, home to the Eurotunnel terminal, hoping to find a way to the other side.
If they make it, they expect to find illicit employment in Britain's booming shadow economy or to claim asylum in a system often seen as more generous than the French equivalent.