Spain open to new Greece bailout talks post-referendum
Comments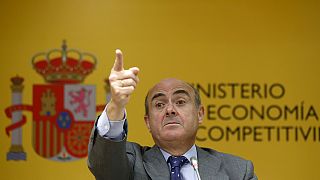 Spain is open to new bailout talks, that was the position of the Spanish Economy Minister Luis De Guindos as European lenders reeled from the result of the Greek referendum on Sunday.
He added that Madrid was not even contemplating a Greek exit from the eurozone, and even admitted that lenders hadn't been fautless in their management of the Greek debt crisis.
"I think that from a public perspective, the Troika (comprised of the European Commission, the European Central Bank and the International Monetary Fund), or as we would like to call it, the 'Institutions' has made mistakes. But I also say that it is inescapable that Greece has to make reforms," said Guindos.
The closest European ally of Greece's ruling Syriza party, Podemos hailed the result as a political landmark brushing off questions whether the vote was good for his party.
:
"I think we have to be very happy just for the fact that there has been a referendum in Greece," leader Pablo Iglesias told the assembled media. "Regarding the result, as I said before, I think that it is a result that brings us into a better future for a democratic Europe," he added.
The Greek referendum had become a tender point in Madrid, as the centre-right government fights to assert itself in the face of the astronomic rise of the anti-austerity Podemos party ahead of elections later this year.