Nigeria: Scores killed in Jos in attacks blamed on Boko Haram
Comments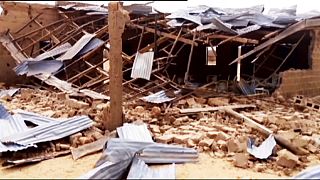 Emergency services rushed to retrieve the injured after suspected Islamist militants killed at least 44 people in attacks on a restaurant and mosque in the central Nigerian city of Jos.
Though no one has claimed responsibility, the violence bore the hallmarks of Boko Haram insurgents, who have been stepping up attacks over the last week.
The city of Jos lies on the edge of the core insurgency zone but has been hit by Boko Haram fighters before. On Sunday, a suicide bomber attacked a church in Potiskum in the north-east of the country. At least five worshippers were killed.
Last year the Islamist group held large swathes of the north-east of the country, but the government backed by troops from neighbouring countries had managed to recapture much of the territory.
The latest attacks appear to be in response to the so-called Islamic State group's call to step up military operations during Ramadan. In recent days more than 200 people have been killed. Boko Haram has sworn allegiance to the ISIL group.
Recent Attacks
Monday 06/07
44 killed in attacks on mosque and restaurant in Jos
Sunday 05/07
5 killed in attack on church in Potiskum
Friday 03/07
Zabarmari village attacked by several suicide bombers killing scores
Wednesday 01/07
Up to 118 killed in an attack on the village of Kukawa, 185 kilometres from Maiduguri, the capital of Borno state.
Tuesday 30/06
Up to 48 gunned down in two villages near Monguno, Borno State