Pope leaves for visit to Latin America
Comments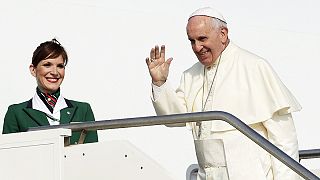 The world's first Latin American pope is going home. Chosen on a mandate of piety and helping the poor, Pope Francis is on his way to visit Ecuador, Bolivia and Paraguay.
Ecuador has been blessed by the Pope's visit
They are three of the world's poorest and most marginal nations in a region that claims 40 percent of the world's Catholics. The Pontiff will not visit his native country, Argentina, preferring not to cause a distraction during the presidential election campaign.
The Latest: Pope Francis flies to South America on 9-day pilgrimage, bring message of solidarity with poor: http://t.co/MjmKN8knV7

— The Associated Press (@AP) 5 Juillet 2015
The first port of call is Ecuador:"It's wonderful for the country, a really big privilege for all of us Christians." said one woman waiting at the airport, "the faith of every Ecuadorian has been confirmed. The country has been blessed by the Pope's visit."
"I hope the Pope's visit brings unity to Ecuador, to help us forget all the political conflicts. We are hoping for a message of unity." added another man.
Preparations are also underway in Bolivia, despite a sprinkling of snow. The Pontiff will aim to smooth relations between the country's indigenous people and the descendants of its Spanish colonial settlers, who brought the Catholic faith to Bolivia.A constitutional referendum in 2009 stripped the Catholic Church of its official status and declared Bolivia a secular state.
Three in every four people in the country of 10.6 million are Catholic.