ISIL video shows mass killings in Syria's Palmyra
Comments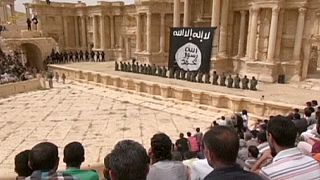 Amateur video purportedly shows Islamic State militants carrying out a mass execution in Palmyra's ancient amphitheatre.
The footage shows the militants leaving the city's notorious prison, where dozens of Syrian government soldiers were said to be held.
After being lined up on stage in front of the jihadists' flag, twenty five soldiers were shot in the head.
The video was released on Saturday although the killings were believed to have taken place more than a month ago when ISIL overran the city.