Ten-month-old baby rescued from sea off Turkey
Comments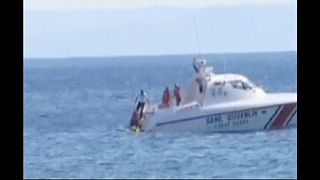 In Turkey, a ten-month-old baby has been rescued after drifting a kilometre out to sea in an inflatable crib.
The coastguard released a video showing the rescue operation.
The baby girl, Melda Ilgin, floated in an inflatable crib after drifting from the shore in the town of Ayvacik.
Her parents forgot they had left her in the crib until other sunbathers at the beach reminded them.
Onlookers applauded as the baby was brought back to shore and handed back to her mother.