Status approved, but nowhere to go: refugees form makeshift camp in Italy
Comments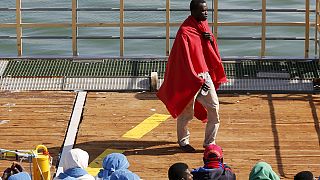 Home is where you lay your head, or so it seems for a group of people in southern Italy. Dozens have set up camp near the Crotone railway station in the Reggio Calabria region, while they wait for new papers to replace temporary permits.
With the offer of refugee status came the realisation that they were no longer able to shelter in a nearby reception centre for migrants.
Applying for asylum can be a long and complicated process. According to the United Nations' refugee agency (UNHCR), some 219,000 refugees and migrants arrived in Europe by sea in 2014. The figure for the first six months of 2015 stands at almost 137,000.
EU authorities trying to stem the influx are cracking down on those smuggling boat loads of migrants over to the continent. On July 1, 2015, a man found guilty of trafficking was handed an 18-year jail term in Italy.
However, critics say the crackdown is misguided and may end up costing the lives of those trying to make the journey across the Mediterranean, rather than stopping the smugglers.