Rio 2016 organisers unveil innovative Olympic torch
Comments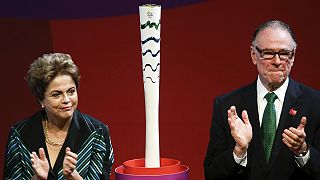 The Rio 2016 Olympic torch was unveiled Friday at a special ceremony attended by Brazilian President Dilma Rousseff in the capital of Brasilia.
Organisers said the inspiration for the design was drawn from Brazil's nature and the "harmonious diversity and energy" of its people while the torch fully incorporated the Olympic spirit.
The torch, crafted from recycled aluminium and resin with a stain finish, has different segments which expand when the Olympic flame is passed from one torch to another.
These innovative segments, which represent the soil, sea, mountains, sky and sun, are coloured according to the Brazilian flag – green, yellow, blue, and white.
"The design of the Rio 2016 torch was inspired by the Olympic spirit, our country's nature, and the harmonious diversity and energy of our people," said the organising committee brand director, Beth Lula.
"We used the specific stroke of the Rio 2016 brand to design the torch's contours."
Small triangles, which form the texture of the torch and run the length of the body, are there to serve as a reminder of the three Olympic values of excellence, friendship and respect.
Some 12,000 torch bearers are expected to carry the Olympic flame across 300 cities and towns in the 26 Brazilian states, plus the Federal District, in a torch relay thought to commence in May next year.
Each torch bearer will have the opportunity to carry the flame about 300 metres.
"We want to show the world the chemistry that we believe will be born when the Olympic flame meets the warmth of the Brazilian people," said president of the organising committee, Carlos Nuzman.
Officials said the torch bearers would be chosen within the next two months by the organising committee and sponsors Coca-Cola, Nissan and Bradesco.
The torch relay, which starts in Brasilia and is expected to last about 100 days, is seen as one of the most inclusive parts of the Olympics coming to Rio.
Authorities, however, are yet to confirm the security arrangements of the relay after it was reported by Reuters that the flame would pass through 19 of the world's 50 most dangerous cities listed in a report published by a Mexican advocacy group.
Sao Paulo-based firm Chelles & Hayashi beat more than 70 agencies to win the design contract.