Brazil reveals Olympic torch design
Comments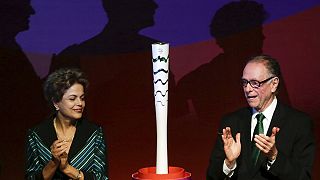 With just over a year until the start of the 2016 Olympics, Brazil has unveiled its torch design for the Games.
Over the next 12 months the lanterns will be carried through more than 300 cities by around 12,000 people.
At the end of the relay, the Olympic flame will ceremoniously light a cauldron over Rio de Janeiro's Maracana stadium, where it will remain throughout the Games.
The torches are expandable and stand 69 centimetres tall, weighing between 1 and 1.5 kilograms each.
They are made from recycled aluminium and resin with stain finish.