Tunisia beach attack: unity and mourning a week after tourist massacre
Comments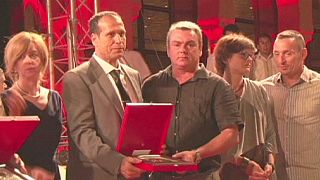 As victims of Tunisia's terror attacks are remembered a week after an Islamist gunman ran rampage on a beach, people of different faiths came together in the capital Tunis in an expression of solidarity.
The ISIL militant group claimed responsibility for the bloodshed.
But those leading Muslims in Tunisia feel Thursday's inter-faith meal – breaking the daily Ramadan fast – represents a victory against terrorism.
"This is an effort to unify religions in order to achieve peace in the world," said Tunisian Mufti, Hamda Said.
The event, organised by a body representing Tunisia's tourism restaurants, also honoured family members of those killed in March's deadly Islamist terror attack at the Bardo Museum in Tunis, which claimed 21 tourist lives.
Among those present was Spaniard Agustin Pierra Sanchez who lost his mother and father in the attack.
"I feel sadness and resignation and I appreciate the displays of warmth and demonstrations here in Tunis to honour my parents and the other victims murdered that day," he said.
Thirty of the 38 people killed last Friday were British.
And as the bodies of those who had left on a sunshine holiday continue to be repatriated, a minute of silence to remember the dead was being accompanied by flags flown at half mast, including at Buckingham Palace.
The Union Flag flies at half-mast over Buckingham Palace in memory of the victims of the #Tunisia attack pic.twitter.com/X5hreUYcyo

— BritishMonarchy (@BritishMonarchy) 3 Juillet 2015