Hague police detain 200 as riots continue over death of arrested man
Comments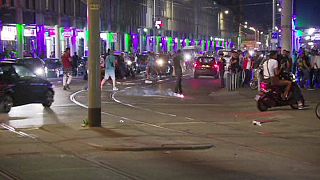 A week of unrest has continued in the Hague with a fourth successive night of rioting following the death of a Caribbean man in police custody.
Dutch police say they detained more than 200 people overnight (Thursday to Friday) for violating terms of a curfew as tempers flared in a mostly immigrant neighbourhood.
Preliminary findings from an autopsy indicate that Mitch Henriquez, from the Dutch island of Aruba, died of asphyxiation after being held in a chokehold and pinned down when he was detained.
The 42-year-old, who was visiting the Netherlands, was arrested at a concert on Saturday for allegedly shouting that he had a gun although he did not in fact have a weapon, investigators said.
As anger continues over his death, five police officers have been suspended, pending the results of an inquiry.
The Hague's police force has previously been criticised by Amnesty International and in a 2013 Dutch TV documentary for targeting foreigners and immigrants disproportionately and with greater use of force.
Police have denied having any policy of racial profiling.