Armenians protest against electricity price rise
Comments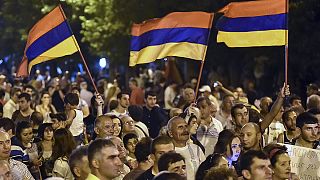 Anger continues to spread across Armenia against plans to raise energy prices.
Russia has cautioned against any attempt to spark a new so-called colour revolution in the country by exploiting the protests for political ends.
Armenia hosts a Russian military base.
Moscow has been wary of unrest near its borders since governments fell in neighbouring Georgia and Ukraine.
Thousands of mostly young people have been protesting for more than ten days in the Armenian capital Yerevan.
Police tried to disperse large crowds last week but the protests continued.
The Kremlin has said it is up to Armenia's government to resolve the dispute themselves.