Tsipras keeps options open ahead of Greece bailout vote
Comments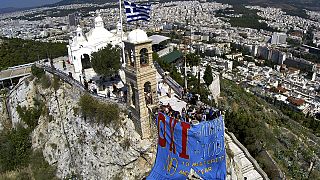 As Greece heads to a referendum this Sunday (July 5) on the country's bailout terms opinion polls contradict each other.
One gives the "yes" campaign a four-point lead.
Another gave the "no" camp a nine-point lead.
Prime Minister Alexis Tsipras's government is expected to fall if voters vote "yes" to the bailout plan.
He rejects what he calls the "blackmail" of EU and IMF lenders demanding spending cuts and tax hikes, and says Greece has other options.
"Our geopolitical orientation is indisputable," Tsipras said. "However, there are other possibilities we can explore through our multidimensional foreign policy so our current geopolitical dynamics can be enhanced."
Both Tsipras and his finance minister Yanis Varoufakis are convinced that if Greek voters reject the offer, Athens could negotiate better terms, including debt relief.
Varoufakis has tied his fate to Sunday's outcome: he said he would resign if the government's call for a "no" to the bailout terms were ignored.
'No' place in the eurozone?
But the chairman of eurozone finance ministers warned that if Greece voted "no" it was likely to have no place in the eurozone.

Addressing a Dutch parliamentary committee, Jeroen Dijsselbloem said Greek voters should not expect to get better terms from their creditors by voting "no" in the referendum.
Dijsselbloem said that while the offer on which Greeks were being asked to vote had expired, the referendum would show whether Greeks were prepared to make the painful sacrifices needed to stay in the currency bloc.
"If people say 'we don't want that' then there is no basis. I think there would not only be no basis for a new programme but it would be very much the question whether there would be a basis for Greece in the euro zone," Dijsselbloem said.
His remarks contradict those of Tsipras, who said a "no" vote would force the eurogroup and other lenders to come back with a more favourable offer.
Dijsselbloem told reporters the eurozone countries were still prepared to help Greece in the event of a "yes" vote.
Pensioners bear the brunt of the crisis
Meanwhile Greek banks have remained closed this week. Many older Greeks do not use debit or credit cards so have no access to cash machines.
The government has ordered one thousand branches to open to issue cards and pay out a maximum of 120 euros.