Thousands rally in France in support of Greek "no" vote
Comments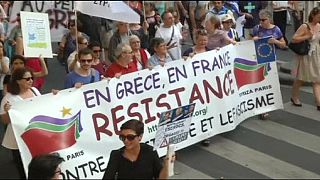 In France, thousands have been protesting urging Greeks to vote no in Sunday's bailout referendum.
From Paris to Marseille to Montpellier, the scene was much the same as people took to the streets in a massive show of solidarity.
One demonstrator said: "We have to change the rules of the euro and not throw out country's in the euro zone. It's completely crazy that we're ready to do that rather than change the way we manage the single currency."
Sentiments shared by France's Finance Minister Michel Sapin who stopped short of calling Greeks to vote yes, but called for further talks.
"We are totally committed to avoiding a catastrophe for Greece which would also led to difficulties for Europe," said Sapin.
Similar protests are scheduled to take place in Italy, Germany and other euro zone members on Friday.